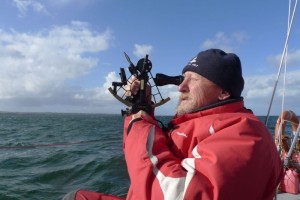 An interview with Piotr Mikołajewski, the owner of the S/Y Polonus and chairman of the association "Żeglujmy razem" ("Let's sail together"), the main organiser of the Shackleton Memorial 2014.
How did you get the idea to commemorate Sir Ernest Shackleton?
It all began with planning the next routes for Polonus. After visiting Spitsbergen and Iceland and also following the route of S/Y Śmiały, I was wandering where the next voyage could take us. It's as simple as that. The exact idea was born on the last leg of the last voyage, from Norway to Poland. I read a book about Sir Ernest Shackleton and I had the idea of honouring this great explorer.
Who is Sir Ernest Shackleton to you?
We are now surrounded by two-dimensional and artificial idols and here's a man, whose word was his honour.
A man, who would spare no effort to protect those, he pledged to protect. A man, who led with great responsibility. Sir Ernest Shackleton is someone, whose example is worth following.
Where will the expedition start?
The S/Y Polonus will start from the Polish port of Świnoujście, but the official start will be in London.
Were you able to wake a lot of interest? From the Irish maybe?
I'm still working on it, but there is some interest in Ireland and Australia. I am also trying to get several Polish yachts aboard..
Should someone decide to join, are there any free berths?
The Polonus' voyage was split into nine legs, some of which are already taken. There is a voyage plan on our homepage and everyone will be able to contact the skippers of those legs. There will also be a waiting list.
How strenuous is this voyage?
Compared with our last voyage, during which we followed the S/Y Śmiały's expedition around South America, it's going to be easier, as this voyage is divided into more legs. The biggest challenge is to convince as many yachts as possible to join us in this endeavour. From a sailor's point of view it's a fairly predictable voyage, we're not planning on entering any uncharted territories.
The expedition's goal is to reach Grytviken in January 2015. What do you have in store for the Polonus after that?
After the final meet, S/Y Polonus will head to Cape Town and other participating yachts are free to arrange their return as they please.
Is the Polonus ready for the expedition?
Yes, she's virtually ready to go. We need a couple more documents and certificates for some of the equipment, but from a technical standpoint she is ready anytime.