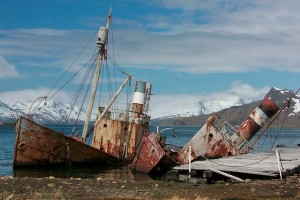 South Georgia and the South Sandwich Islands (SGSSI) is a British overseas territory in the southern Atlantic Ocean. It is a remote and inhospitable collection of islands, consisting of South Georgia and a chain of smaller islands, known as the South Sandwich Islands. South Georgia is 167.4 kilometres (104 mi) long and 1.4 to 37 km (0.9 to 23.0 miles) wide, and is by far the largest island in the territory. The South Sandwich Islands lie about 520 kilometres (320 mi) southeast of South Georgia. The total land area of the territory is 3,903 square kilometres (1,507 sq mi).
There is no native population on the islands; the present inhabitants are the British Government Officer, Deputy Postmaster, scientists, and support staff from the British Antarctic Survey who maintain scientific bases at Bird Island and at the capital, King Edward Point, as well as museum staff at nearby Grytviken.
In April 1916, Ernest Shackleton's Imperial Trans-Antarctic Expedition became stranded on Elephant Island, some 800 miles (1,300 km) southwest of South Georgia. Shackleton and five companions set out in a small boat to summon help, and on 10 May, after an epic voyage, they landed at King Haakon Bay on South Georgia's south coast. While three stayed at the coast, Shackleton and the two others, Tom Crean and Frank Worsley, went on to cover 22 miles (35 km) overland to reach help at Stromness whaling station. The remaining 22 members of the expedition, who had stayed on Elephant Island, were subsequently rescued. In January 1922, during a later expedition, Shackleton died on board ship while moored in King Edward Cove, South Georgia. He is buried at Grytviken.
Wikipedia