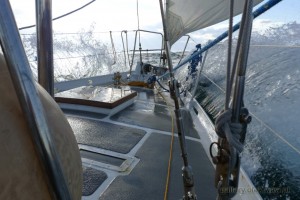 The S/Y Polonus, which remains at our association's disposal, will serve as the expedition's flagship. She is a Bruceo 44 steel ketch with 860 square feet sail area. Her home port is Szczecin.
The S/Y Polonus proved its merits in several demanding voyages including:
The last voyage was honoured with the "Golden Omega" and "Event of the Year" by the Sailing Association of Wielkopolska. It was also nominated for the Polish "Voyage of the Year" award.
Specifications:
Dimensions: LOA = 13.4 m, B = 3.9 m, D = 1.8 m
Sail area: ketch,  860 square feet
Hull material: steel
Built in 1991
Berths: 8 plus an additional berth in the saloon (one of which will be occupied by the yacht's bosun)
Engine: Leyland, 78.4 HP
Water/Fuel tank: 1200/450 litres
Navigational equipment:
GPS-plotter with maps covering the expeditions (C-Map NT Max)
Radar (with plotter overlay)
Iridium satellite phone
Built-in VHF radio with DSC
Portable VHF
NAVTEX receiver
AIS
Three independent GPS-receivers
Satellite compass
Magnetic compass (at the helm)
Anemometer
Depth sounder
Echopilot (sounder with 3d imaging)
Mechanical log
Computer with all necessary maps
Paper maps for all planned passages and detailed maps of all scheduled ports of call
Tidal atlas
Nautic pilots (NGA)
Safety equipment:
Lifelines
Safety harnesses with tethers and carabiners
Two liferings with lines and lights
Required pyrotechnics
Additional signal gun
EPIRB
Liferaft for 12 people
The galley allows for cooking even in harsh conditions. The gimball swinging two burner propane stove with oven makes cooking possible even on a 50 degrees heel (if the cook can take it). The galley is equipped for full cooking and dining six and features also a built in refrigerator.